Gear Gossip: Tkachuks Bucking Bigger Brands Trend
By Matt Stathopoulos
10/03/2023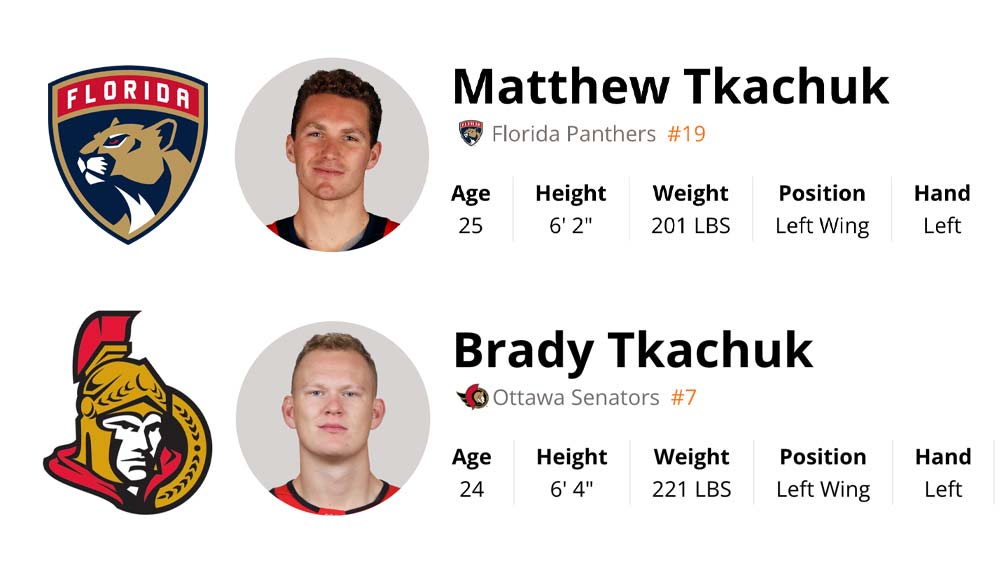 Matthew
was highly touted out of junior hockey and drafted sixth overall by the Calgary Flames in 2016. Brady also was highly touted — drafted fourth overall in 2018 by another Canadian team, the
Ottawa Senators
.
Both play a physical game that annoys opponents. Both score goals on beautiful plays and others that result from causing mayhem in front of the net.


Both had contentious contract negotiations. Brady sat out training camp and part of the preseason while he waited for the Senators to match his offer. Older brother Matthew asked out of Calgary and was part of the NHL's first sign-and-trade deal (he was traded to Florida after signing an 8-year extension with the Flames).


They also are quite different.


Matthew went the Canadian Junior Hockey route, playing for the famed London Knights in his draft year, while Brady took the college path, skating for Boston University in his draft year.


Brady has yet to play an NHL postseason game, as the Senators are in the upswing of their rebuild. Matthew, on the other hand, has 47 playoff games under his belt, including an unexpected run to the Stanley Cup Final with the Panthers in 2022-23.


They also don't particularly agree on gear.


Brady uses a stick made by up-and-coming TRUE Hockey, the
Catalyst 9X3
. He also uses TRUE Catalyst 9X Gloves and a Bauer Re-Akt helmet.
Matthew opts for a
Sherwood Code TMP Pro
stick — one of only four NHL players to do so — and Sherwood Code V Pro gloves to go with his CCM Super Tacks X helmet.
Something on which they agree? Skates. Both Matthew and
Brady
use Bauer Vapor HyperLite skates, like 34% of NHL players.
So, while the brothers are a lot alike, it's clear they have different preferences for equipment. Why not? Just because they play the same style of game doesn't mean they have to do everything the same.