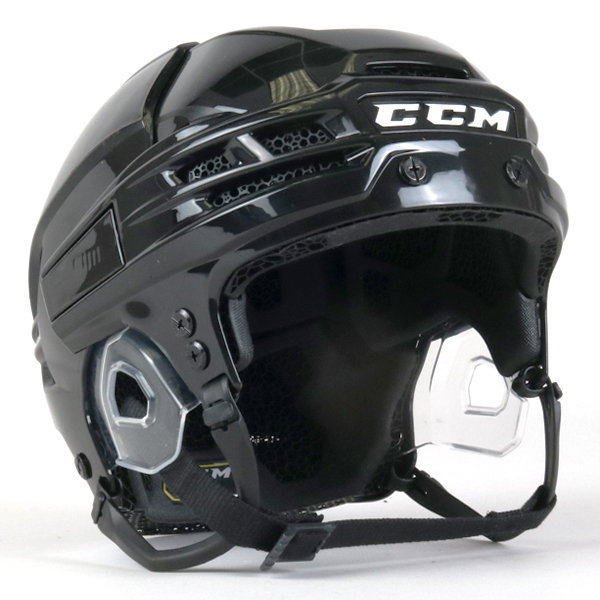 GearGeek.com's first sighting: Several players in January 2021 when training camps opened for the shortened NHL season.
CCM Super Tacks X's notable moments:
•Connor McDavid teased that he liked the fit and feel of the Super Tacks X, and was even seen wearing it on the ice in June 2021. However, he opted for the V08 model once the season started.
•At the beginning of the 2021-22 season, the Columbus Blue Jackets had eight players switch to Super Tacks X.
•David Perron was among a few players wearing a CCM FitLite 3DS helmet for a considerable amount of time. The Super Tacks X convinced him to switch in February 2022.
How does the helmet look?
Design of the Super Tacks X helmet is like CCM's Tacks 710 and Resistance models. The most obvious appearance difference is the vents – which bring a sharper look. The shell looks more streamlined than the Resistance, thus providing a more appealing look. The helmet's iconic inside liner is visible from the outside. The honeycomb design is primarily visible through the top vents, but you can occasionally see it from other angles. The belief is many players wore the classic V08 helmet from CCM, given its simple but classy look, instead of switching to the Resistance or Tacks 710. The Super Tacks X, however, with its hugging and modern look, has convinced more players to make the transition.
Why is the CCM Super Tacks X helmet unique?
The Super Tacks X is top of the line when it comes to innovation and high-performance helmets from CCM. It was engineered with 3D printed "Nest Tech" technology to assure the player's head stays cool and comfortable throughout the entire skate. Tool-free adjustment gives you the ability to do so quickly, and provides a secure and personalized fit. Multi-density foams help absorb impact for enhanced protection. The Super Tacks X's outer shell has a new look and stiffness — the new look removes some of the bulk of previous models, while added stiffness better protects on both sides of the helmet.
Players Using This Helmet
(162)
Show All