Bauer Vapor HyperLite 2 Skates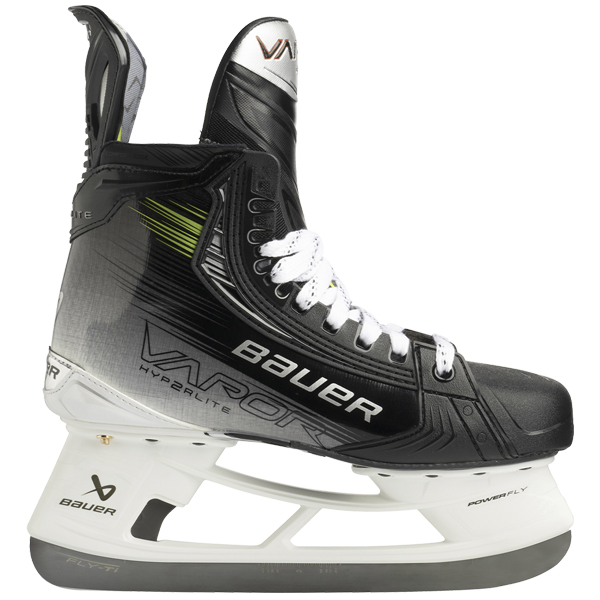 GearGeek.com's first sighting: David Pastrňák at Bruins' practice in early April 2023.
Bauer Vapor HyperLite 2's notable moments:
• Evgeny Kuznetsov was the first player to wear them in a game — against Montreal in early April 2023.
• Paul Stastny made the switch to HyperLite 2 skates (from FT4 Pros) in late April 2023.
• Shea Theodore was the only HyperLite 2 skate user to lift the Stanley Cup in 2023. He finished the series with 6 points and a team leading 20:22 minutes per game.
How do the skates look?
The second version of the Bauer HyperLite skate looks fairly like the original, but there are some notable differences. The Powerfly holder has a distinctly different look than the usual Tuuks that we're used to seeing on Bauer skates. These new holders have just two open spaces above the blades, but they are much larger than previously. The trigger for the blade removal system is in its usual spot, but the new Bauer logo is visible at the back end. Overall, the color of the boot is similar to the original HyperLite — mostly silver with a fade to black. However, on this version, a hint of neon green trim can be seen near the ankles. On the back of the boot, Bauer's new logo is visible with "Hyp2rLite" just above it. The raised text is sure to help with identifying these skates being worn by NHL players. Often, shot blockers hide the sides of skate boots, but with the text and logo in the back, shot blockers won't conceal the skate's identity. There seems to be a hologram-like feature on these skates, as the boots in this area are noticeably shinier than previous models. One more note about the skate's color is the change in interior — there's significantly more yellow inside the boot. Only a minor difference from tradition, but still a difference, nonetheless. It's no secret that Bauer is king when it comes to skates. Part of that is due to sharp designs produced year in and year out; HyperLite 2 surely follows in that tradition.
Why are Bauer Vapor HyperLite 2 skates unique?
HyperLite 2 skates are a step up from its Bauer predecessors. These skates should improve a player's quickness and agility due to the added flexibility from the new Aerolite 2.0 tongue. This feature allows skaters to push the limits without discomfort. New Powerfly holders are perhaps the most noticeable upgrades on these skates. They are the most advanced blade holders to date, allowing for quicker pivots, better balance and power in every stride. You might recall these new holders resembling a look from the prototype OD1N skates in 2013, from which they get their inspiration. The improved version is sure to deliver faster turning and acceleration that requires less effort.
Players Using These Skates
(145)
Show All