Star Defensemen Fox And Dahlin Are The Same — But Different
By Matt Stathopoulos
08/29/2023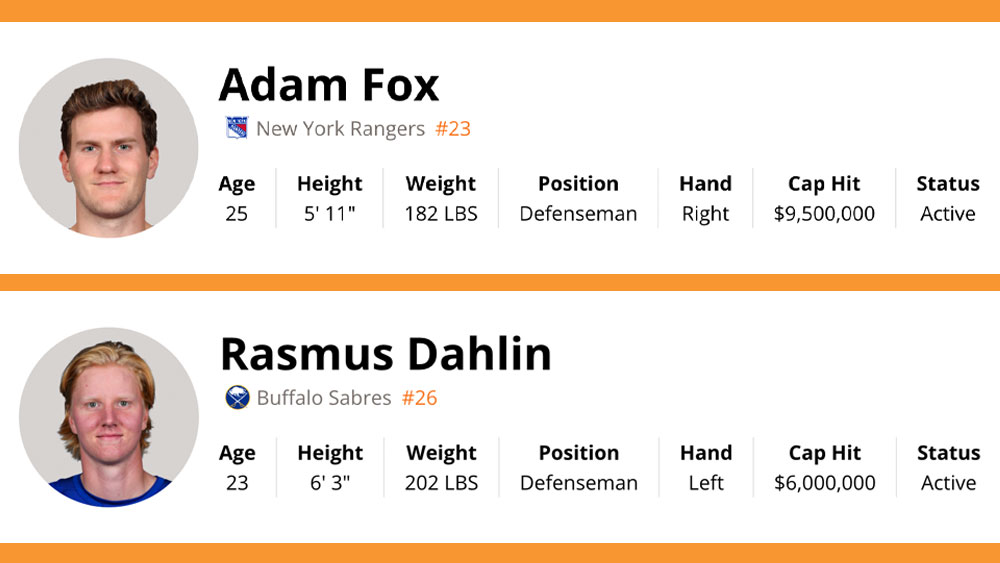 While young defensemen
Rasmus Dahlin
and
Adam Fox
may have similar playing styles, their paths to the NHL could not have been more different.
Fox, a New York native, came through the USA National Team Development Program, playing there for two years. His time on the international stage nabbed him a bronze medal at the IIHF U18, and a bronze and gold medal at back-to-back U20 World Junior Championships.


Fox was selected in the third round of the 2016 NHL Entry Draft by the Calgary Flames and played collegiately for Harvard University from 2017-19. In route to an NCAA (ECAC) championship, he won multiple awards after his freshman year, including Ivy League Rookie of the Year and ECAC All-Rookie Team.


However, Fox's NHL career wouldn't start for another three years, as he refused to sign with Calgary. The Flames traded him to the New York Rangers in 2019 as a 21-year-old. He made an impact right away — Fox scored 42 points his rookie season and finished fourth in Calder Trophy voting, then earned a Norris Trophy as the NHL's Best Defenseman the following season.


Dahlin, on the other hand, grew up in Lidköping, Sweden, playing junior and pro hockey for Frölunda HC. As a highly touted prospect, he was drafted first overall in 2018 by the Buffalo Sabres. Instead of plying his trade in Sweden for a few more years, Dahlin made the jump to the NHL as an 18-year-old and put up 44 points as a true rookie, finishing third in Calder voting.


Both defensemen know how to score. Dahlin has 233 points in five NHL seasons (including a career-high 73 in 2022-23), and Fox has 235 in four pro seasons. Both play on the first pair and both are extremely valuable to their teams. Dahlin makes $6 million a season, Fox $9.5 million.


That's where their similarities end. When it comes to hockey equipment, they've gone separate ways.


Fox is a head-to-toe Bauer guy. He uses a
Bauer Nexus Geo
stick, Vapor HyperLite skates, Nexus 2N gloves and a
Re-Akt
helmet. The Bauer gear has helped Fox to make quick turns, adjust to plays on the fly and post Norris-level numbers — including 74 points in 2021-22 and 72 last season.
For the most part, Dahlin prefers Warrior equipment. He uses a
Warrior Alpha LX2 Pro
stick, Covert QRE gloves and a
Covert CF 100
helmet. Dahlin does wear Bauer Vapor HyperLite skates, but only because Warrior doesn't manufacture NHL-level skates. Warrior sticks and gear has helped Dahlin bring stability to a Buffalo team that has sorely needed it and to become one of the top defensemen in the league on an up-and-coming Sabres team.
No matter how many points Fox and Dahlin score or how many more trophies they accumulate, you can bet that Bauer and Warrior figure to help these two stud defensemen to play at the top of their game.