Warrior Alpha LX2 Pro Stick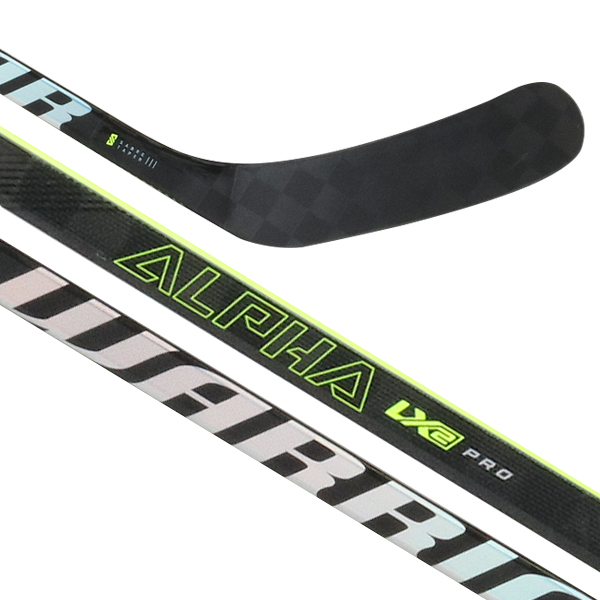 GearGeek.com's first sighting: Brad Marchand during a photoshoot with the Bruins in September 2022. He later used it at practice in mid-October.
Warrior Alpha LX2 Pro's notable moments:
•Tomáš Tatar debuted a custom red version of the Alpha LX2 Pro during Game 7 of the first round of the 2023 Stanley Cup playoffs against the New York Rangers.
•The Alpha LX2 Pro was seen in the ECHL with the Cincinnati Cyclones in early April 2023. It's uncommon to see unreleased sticks in non-NHL professional leagues.
•Leon Draisaitl made a somewhat shocking switch to the Alpha LX2 Pro in March 2023. Shocking because the Covert QR5 Pro he previously used seemed to better complement the Edmonton Oilers team colors.
How does the graphic look?
First glance at the Alpha LX2 Pro and you'll instantly notice differences from its predecessor, the LX Pro. For starters, the main "Warrior" reference is about the same size type but is located much closer to the blade than the knob. While it isn't uncommon for sticks to label the brand in large type near the blade, "Warrior" on the LX2 is even closer to the blade than what we're used to seeing. Black, neon and silver make up the colors of this new Alpha stick. The middle of the shaft features an assortment of shapes and a design that isn't easy to describe. However, toward the knob you'll see "Alpha LX2" in neon. "Warrior" is also displayed on the top side of the shaft, just underneath the knob, in black. We've already seen some custom variations of this stick, including red and orange; we're curious to see how many more color schemes will be on display during the 2023-24 NHL season.
Why is the Warrior Alpha LX2 stick unique?
The LX2 Pros shaft is lighter and tougher than ever. This became possible with Warrior's use of the Minimus Carbon 25 weave, which is a material that makes the most of being durable. Along with the new shaft, the Alpha LX2 Pro's blade was designed with a new texture to enhance a player's ability to feel the puck. As usual with Warrior's Alpha line, the LX2 Pro features a low kick point for a quick release – especially for the close in shots around the net. Lastly, but not to be forgotten, is the Ergo Shaft that can also be considered a staple to the Alpha line. The ergonomic contour shaped shaft fits nearly perfectly in your hands which is the cherry-on-top for Warrior's newest creation.