Warrior Covert QR5 Pro Stick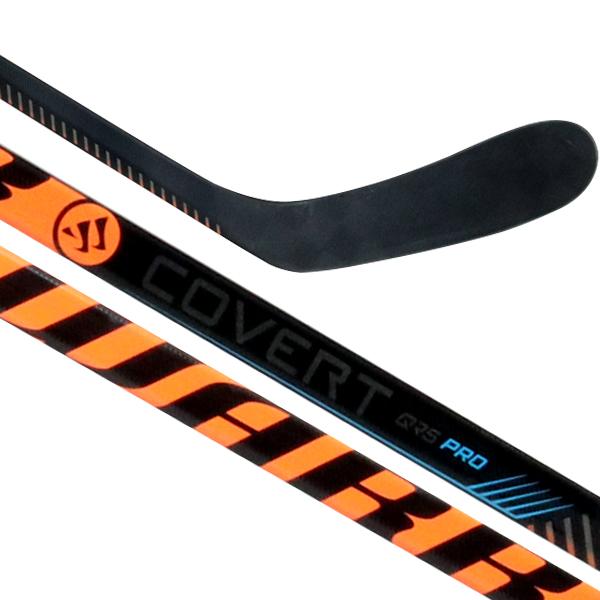 GearGeek.com's first sighting: Oliver Ekman-Larsson in mid-February 2022 during a practice with the Vancouver Canucks.
Warrior Covert QR5 Pro's notable moments:
•Kyle Connor debuted a custom white and black QR5 Pro in December 2022.
•Brendan Gallagher used the first custom QR5 Pro graphic, a blue version during the Kraft Hockeyville preseason game in October 2022.
•Leon Draisaitl recorded his 700th career point with a QR5 Pro by scoring a goal on February 21, 2023, against the Philadelphia Flyers.
How does the graphic look?
Typically an afterthought or used for just a hint of color, orange is now the focal point on Warrior's new Covert QR5 Pro stick. Black on the bottom of the shaft, orange near the top, and a slight hint of blue in the middle. The QR5 Pro is another flashy — but not overly flashy — design in Warrior's family of Coverts. The tradition continues here with "Warrior" in large type at the top of the shaft. The black on orange and text size provides easy brand recognition. In the past, "Covert" is usually easy to see. With this stick, Warrior is putting more emphasis on the brand name and brand logo — which, again, pop out nicely in front of the orange color. Now, "Covert" is seen only on the forehand and backhand sides of the shaft, at the same midway point, in light gray. A hint of blue is represented in "Pro" and a few slashes for design are at the same area where "Covert" is visible. Despite being from the Covert family, the QR5 Pro's graphics more so mimic the recent Alpha LX Pro. An overall good-looking stick, especially if your team's colors are orange and black.
Why is the Warrior Covert QR5 Pro unique?
Warrior is staying true to its unique geometry and shaft shape by continuing with the Edge Taper design on the QR5 Pro. A redesigned blade allows a quick release and new materials that should lessen its breakdown, while increasing longevity. This redesign and attempt at improving the stick's durability does not sacrifice weight whatsoever; the QR5 Pro is still a "feather-light" stick that requires much less effort to utilize.