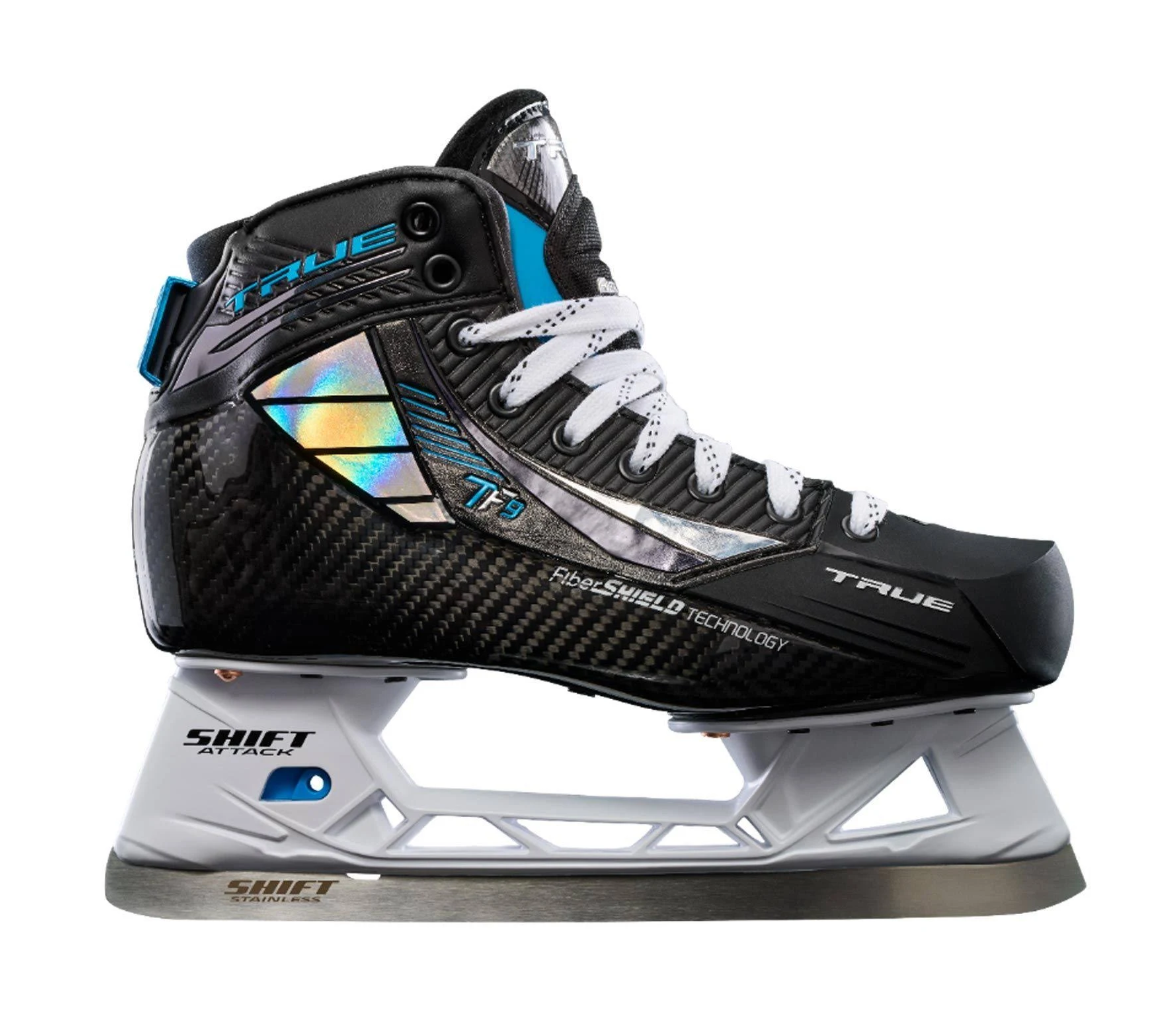 GearGeek.com's first sighting: Several goaltenders began wearing them in November 2021.
TRUE TF9's notable moment(s):
•TRUE TF9 is currently the second-most popular skate among goalies in the NHL.
How do the skates look?
TF9 goalie skates are a classic TRUE design — black boot with few frills and a sleek style. An improved design feature is the blue "TRUE" cleverly located so you can see it beneath the goalie pad. Additional blue trim can be found between the silver logo and laces of the boot. This is also where "TF9" is displayed in appropriately sized type, given its location. "TRUE" once again appears on the front of the tongue, with "TRUE Shell Tech" on the back of the boot near the heel. Rounding out the TF9 skate design is TRUE's Shift Attack holders, a recognizable feature and sharp look.
Why are the TRUE TF9 goalie skates unique?
The TRUE folks are experts in goalie skates, in large part due to their dedication to providing a great fit. The TF9's one-piece shell, improved toecap, and adjustable tongue provide an incredible fit. This one-piece boot conforms to the goalie's foot. Since the ankle tends to be one of the more sensitive areas for goalies, TRUE utilizes its super-comfortable Neoprene Achilles cuff to provide full ankle extension and mobility. Combining these features with the Hydrofoam interior creates a well-rounded and balanced skate. The Hydrofoam material keeps goaltenders' feet dry and adds to the comfortable feel.
Players Using These Goalie Skates
(31)
Show All