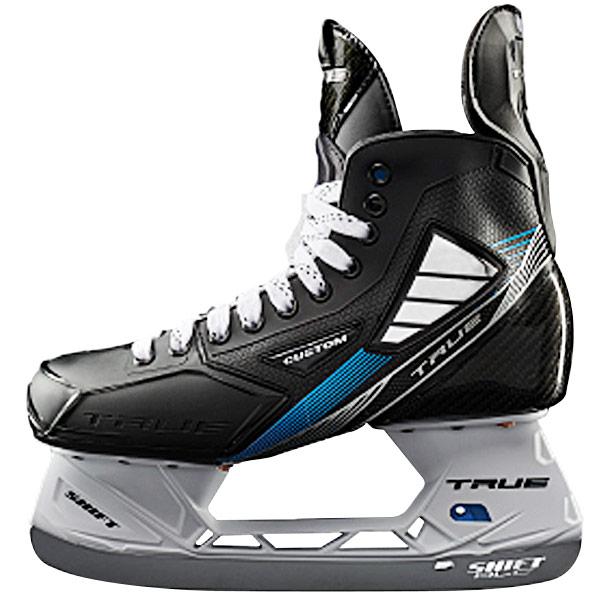 GearGeek.com's first sighting: Mitch Marner began wearing TRUE TF Pro skates in early January 2021.
TRUE TF Pro's notable moments
•Natalie Spooner, TRUE ambassador and star of Canada's National Women's Team, was one of the first to wear TRUE TF Pro skates at the 2021 World Championship.
How do the skates look?
Succeeding the original TRUE Pro Custom skate, it is fair to say the design of the TF Pro model is not much different. The original Custom skate is one of simplicity, essentially a solid black boot with a silver logo near the ankle and "TRUE" in black-on-black type near the toe. The only changes to the TF Pro are (1) a spot in the middle with "Custom"; (2) a silver stripe that runs from the backside of the skate at the top to the bottom of the boot along the middle; and (3) "TRUE" is embedded in the silver stripe. Otherwise, the remaining details are generally the same as TF Pro predecessors. "TRUE" is still on the tongue, the back of the tendon guard and on the boot near the toe but not easily noticed. The holders of these skates do not provide much detail either, as they are fairly simple with the word "TRUE" written on one side and "Shift" written on the other side. With that said, TF Pro's design is improved from the original, but it stays on brand with an unembellished style.
Why are TRUE TF Pro skates unique?
The uniqueness of TRUE TF Pro custom skates is that they strive to live by their name in giving the skater a 100% "custom" fit. This is accomplished by technology that is exclusive to TRUE, where a skater's foot is scanned with a 3D anatomical digital image to collect the needed information. Additional photos might be taken to assist the skate construction. The player is then allowed to choose from a series of options to complete his/her TRUE custom skate.
Players Using These Skates
(18)
Show All