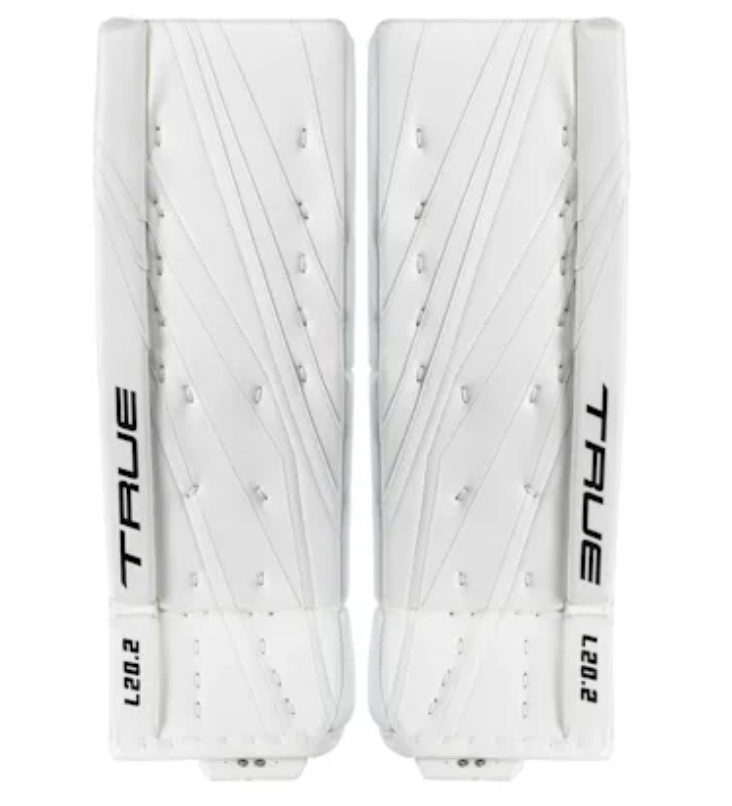 GearGeek.com's first sighting: Anaheim Ducks prospect Lukas Dostal in late December 2020.
TRUE L20.2 pads' notable moment(s):
•TRUE L20.2 pads are currently the third-most popular pads among NHL goalies.
How do the pads look?
TRUE's top-of-the-line goalie pads have a great design, one that helps them stand out on the ice. You'll immediately notice two stripes that start at the top of each pad and work their way toward the center in a slanted fashion. No matter which custom color you choose for these stripes, they're sure to stand out — even from a distance. Should you choose a custom all-black look, the identity may not be as noticeable, but you wouldn't be sacrificing any style points either! "TRUE" can be seen on the bottom edge of each pad — a common location for brand display across all manufacturers' goalie pads. "TRUE" also appears on the outside portion of the pads near the bottom. "L20.2" is visible on the front, bottom edge of the pads' skate area.
Why are the TRUE L20.2 pads unique?
Freedom of movement is the mantra with TRUE's L20.2 goalie pads. Skate and ankle mobility have been improved, thanks to a more accommodating boot channel. The pads' "Fast Rotation System" allows for better agility. One feature that stands out with this model comes from the top side of the pads, what TRUE describes as a "flat face". Flat-faced pads help absorb shots from all over, and thus give goaltenders more ability to control rebounds. Optimal movement and a secured fit make TRUE L20.2 pads a great option for elite goaltenders.