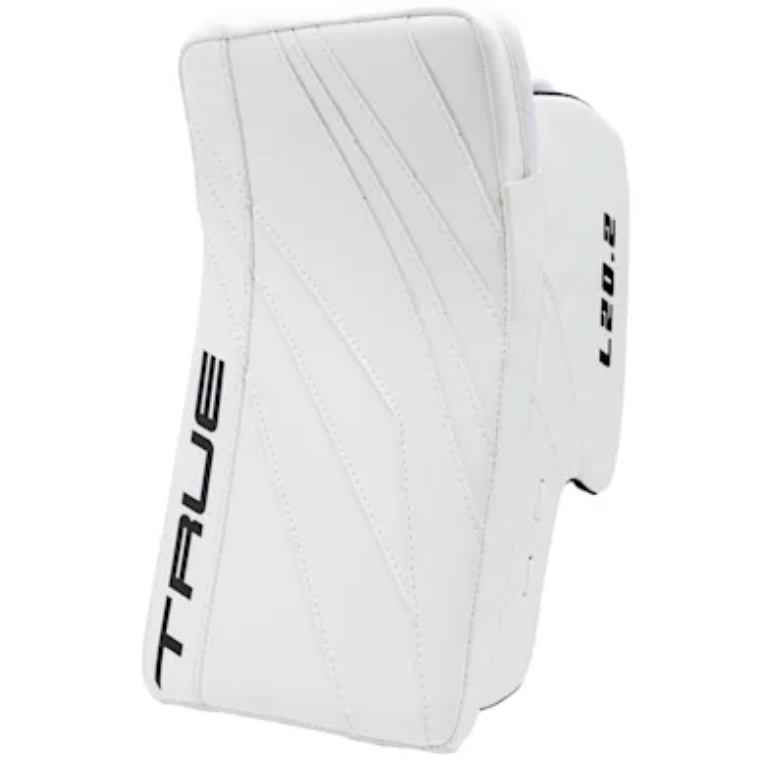 GearGeek.com's first sighting: Anaheim Ducks prospect Lukas Dostal in late December 2020.
TRUE L20.2 blocker's notable moments:
•At the end of the 2022/2023 season, the L20.2 blocker was worn by 16% of NHL goaltenders.
•Adin Hill posted the lowest GAA of his NHL career in 2022-23 while wearing the TRUE L20.2 blocker.
How does the blocker look?
TRUE's L20.2 blocker looks sharp in every color scheme. The TRUE/Lefevre design is instantly noticeable on the front of the blocker. The all-white scheme is its own version of sharp, and any custom color provides a great "pop" to the design. "TRUE" appears on the front, top right corner. Despite the text being rotated 90 degrees and displayed top to bottom, this style fits perfectly with the rest of the design. Another important detail is "L20.2" on the inside of the blocker — it's large enough to see and matches the color of "TRUE" on the front side.
Why is the TRUE L20.2 blocker unique?
The L20.2 blocker from TRUE offers pro-level protection with its one-piece cuff and added index shield. The palm is constructed with "suregrip" material for amazing comfort, providing confidence when handling the puck and of course while in the crease making saves. Pairing this with TRUE's L20.2 glove is sure to make an elite combo.
Players Using This Blocker
(15)
Show All