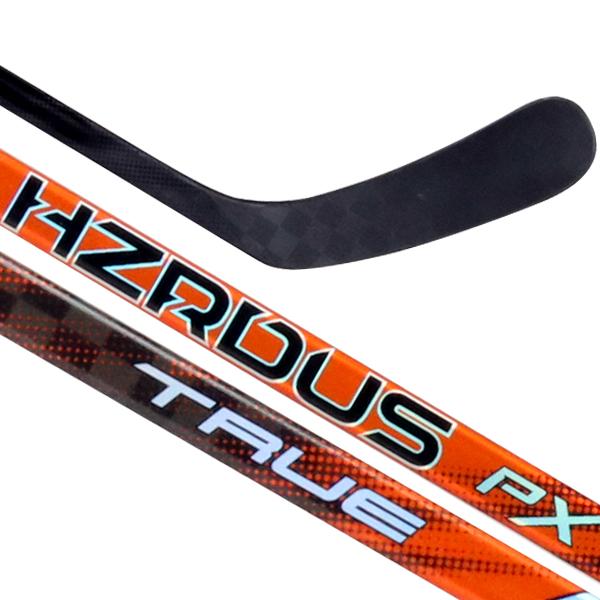 GearGeek.com's first sighting: Tyler Bertuzzi with the Red Wings during a game in late April 2022.
TRUE HZRDUS PX's notable moments:
•San Jose Sharks prospect Thomas Bordeleau introduced a custom blue version at the 2022 IIHF World Championship with Team USA.
•San Francisco 49ers tight end George Kittle used a custom green HZRDUS PX in "Da Beauty League" in 2022. Interestingly, Kittle had one before several NHL players started using this model.
How does the graphic look?
It's safe to say the HZRDUS PX is TRUE's flashiest hockey stick design to date. TRUE opts for a predominantly bright orange colorway that is hard not to compare to Warrior's Covert QR5 Pro. "HZRDUS PX" is presented in black and white at the midway point of the shaft next to the diamond-shaped HZRDUS logo. "TRUE" is displayed twice — once in large lettering near the kick point and again toward the knob in much smaller type. The bottom third of the stick is much simpler; "TRUE" fills 50% of the remaining real estate while the rest is blank. HZRDUS PX's flashy top and quiet bottom strike a nice balance. This stick is sure to stand out among others on the ice, whether it be with the retail orange color or with several custom colors we've seen at the pro level so far.
Why is the TRUE HZRDUS PX unique?
The HZRDUS PX offers a low kick designed to quicken the player's release, especially from in close. You'll immediately notice the shaft's square corners, added to improve feel. The shaft is constructed with 25 layers of carbon fiber to assure that it remains light, without impacting its longevity. Perhaps the technology that most stands out is in the stick's blade; TRUE uses its Tri Rib Tech (TRT+) technology with strategic rib placements throughout the blade. These are meant to match puck impact points and provide a more stable blade structure. This one-piece stick build is a combination of high-class materials and manufacturing for an overall elite level product.