Sherwood Rekker Element One Stick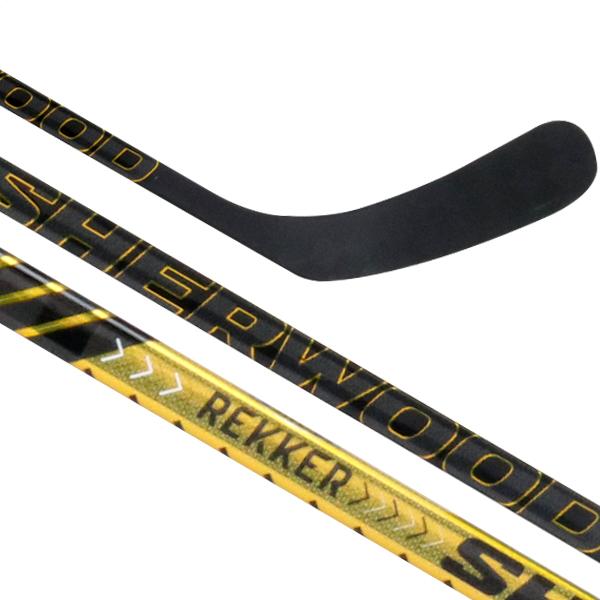 GearGeek.com's first sighting: Alex DeBrincat at a pro camp in Detroit, in August 2021.
Sherwood Rekker Element One's notable moments:
•Artturi Lehkonen scored the Stanley Cup-clinching goal with a Rekker Element One for Colorado in 2022.
•Alex DeBrincat registered a career-high 78 points during the 2021-22 season with a Rekker Element One.
How does the graphic look?
Stick graphics designed solely for the Pittsburgh Penguins and Boston Bruins. Black and gold is usually a great mashup for hockey sticks, and the Rekker Element One from Sherwood is no different. Black serves as the base for much of the stick, while most text is gold. On the backhand side, "Sherwood" is seen in large letters on the hosel, with "Rekker" at the midway point. Arrows go from the middle of the shaft to the knob. "RE1" makes an appearance on the backhand side, a few inches from the knob. The forehand side contains more gold on the upper part of the shaft with "Sherwood" and "Rekker" both visible in gray. It's complete with another "Sherwood" on the hosel, but this time in gray instead of gold (a la the backhand). If not for the several Sherwood references on the stick, this color scheme could easily lead someone to believe it was part of the CCM Tacks family.
Why is the Sherwood Rekker Element One unique?
Built for snipers, the Rekker Element One uses Blackline XXV Carbon Fiber & FeatherLite XT Layup to cut back on weight throughout the stick. Less weight leads to better energy transfer, allowing snipers to get the most out of every shot. Tacky grip is used on the shaft, and its rounded corners with straight sidewalls are meant to enhance overall feel. The shaft is constructed with what's known as "speared one-piece" technology; this helps to reinforce high-impact areas, which in turn helps longevity.