CCM JetSpeed FT6 Pro Stick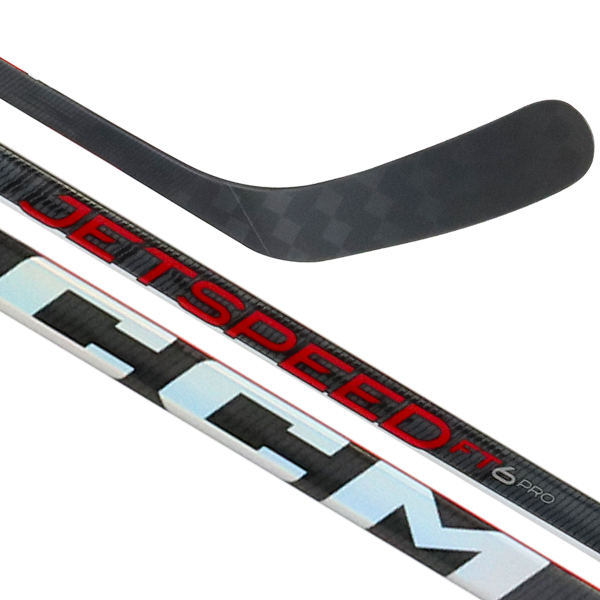 GearGeek.com's first sighting: Stefan Noesen of the Carolina Hurricanes during a game on February 11, 2023.
CCM JetSpeed FT6 Pro's notable moments:
•Nick Cousins, typically a Bauer stick user, switched to an FT6 Pro during the 2023 Stanley Cup playoffs in late April.
•The goal that lifted Toronto into the second round of the 2023 Stanley Cup Playoffs, an OT-winner by John Tavares, with a JetSpeed FT6 Pro.
•Auston Matthews hit the 40-goal mark for the fourth consecutive season in 2023. No. 40 was tipped home with an FT6 Pro.
How does the graphic look?
The JetSpeed line had been the subject of criticism for its latest two designs — the FT5 and FT4 Pro. Both were somewhat unusual and did not seem to have the same appeal as previous looks. The FT6 Pro, however, is sure to bring the line back in the right direction. It is solid white at the top of the stick with "CCM" written in black to stand out, accompanied by a sharp gray to black fade through the bottom of the stick. As is typical, "CCM" is featured in large white letters just before the kick point on both forehand and backhand sides. "JetSpeed" is in red at the midway point in a similar type size. "FT" is also in red, but noticeably smaller, followed by "6 Pro", which also is smaller but in light gray. The FT6 Pro graphic is simpler but better than the mysterious FT4 Pro and the FT5's "bubble" designs. We expect it to be a popular choice among CCM users and could even convince non-traditional CCM users to make a switch.
Why is the CCM JetSpeed FT6 Pro unique?
The JetSpeed FT6 Pro features a new shaft, made with thicker carbon fiber layers designed to make the stick more durable. Its RR-100 blade is on the stiffer side but still brings home the title as the lightest that CCM has produced. The combination of these two points should make for a well-balanced stick that strives for perfection in every shot, pass and pass received. New for this 2023 version of a JetSpeed stick is its hybrid kick point in the shaft — which is said to mostly resemble a mid-kick, but overall the flex point is designed to allow for a "hinge" effect. This means the stick is loaded with a blend of speed and response when generating power in every shot. One feature carried over from the FT5 is Skeleton+ technology (found in the taper area of the shaft and contributes to the lighter feel of the stick). That said, it sure seems like the JetSpeed FT6 Pro is geared for players with a shoot-first mentality. The new blade and kick point technology should be complementary.