Bauer Vapor HyperLite 2 Goalie Stick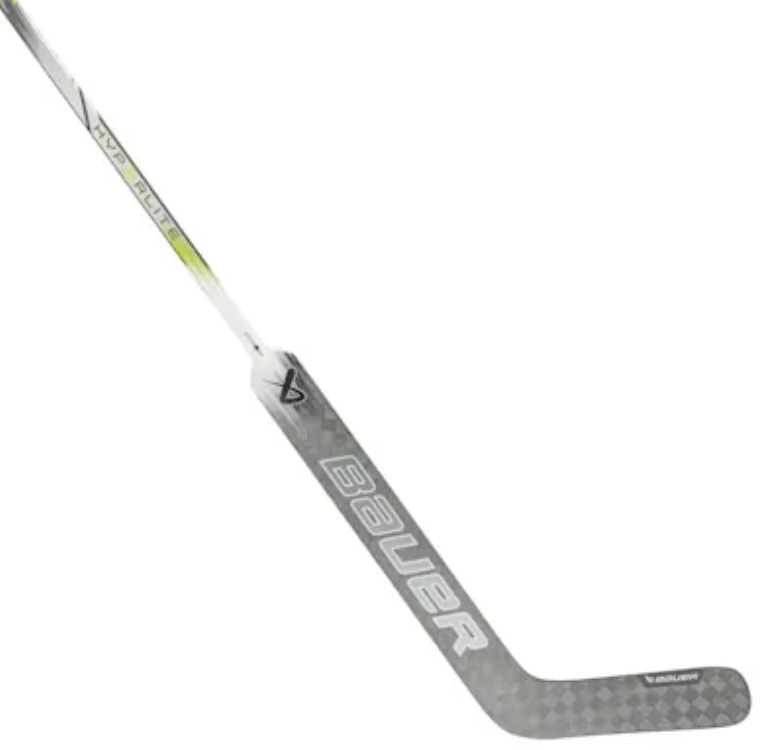 GearGeek.com's first sighting: Andrei Vasilevskiy at the 2023 NHL All-Star Game in February.
Bauer Vapor HyperLite 2's notable moments:
•Newly signed University of Michigan goaltender Erik Portillo used the HyperLite 2 with the Ontario Reign in April 2023 and again at Los Angeles Kings development camp a few months later.
•Rising star goaltender Jake Oettinger of the Dallas Stars began using a HyperLite 2 stick in early April 2023, just before the playoffs.
How does the stick look?
If goalie sticks had middle names, "stylish" would be that of the HyperLite 2. More times than not you can't go wrong with a dark gray or silver color scheme, which is what you get with this new Vapor model. The blade and paddle are shaded perfectly with dark gray. From a forehand perspective, "Bauer" appears in its typical spot on the paddle in a similar color, while also outlined in white for a little pop. Apart from "Vapor" instead of "Bauer", the backhand is the same. Bauer's new logo is near the end of the paddle by the handle of the stick — also in dark gray and outlined in white. The handle has its spotlight at the midway point with noticeable solid white, though the goaltender's blocker typically hides this part of the design. As we move further up the stick, gray returns — but this time with a hint of neon green. The word "HyperLite" is presented with "2" in place of the first "e" to confirm its identity. All text is black with a green outline — except the "2", which is green with a white outline. "Bauer", "Vapor" and the new logo are all visible in smaller letters at the top of the shaft toward the knob of the stick. To complete the design, dark gray fades to black near the knob.
Why is the Bauer Vapor HyperLite 2 unique?
The HyperLite 2 goalie stick is a new generation of lightweight. Top-to-bottom technology makes this stick easier to handle, more durable and properly balanced. Whether the need is to handle or maneuver the puck, or make a key save at a moment's notice, the HyperLite 2 is there to respond. Advanced carbon layering comprises the stick's paddle, providing reinforcement with the surface strength. Native to the Vapor line, "Short Shaft" technology allows for top-notch puck control in all situations. Call it a coincidence that "elite" can be found within "HyperLite," but the second version of this Vapor goalie stick is sure to live up to that term.
Players Using This Goalie Stick
(2)