Bauer Supreme Mach Goalie Glove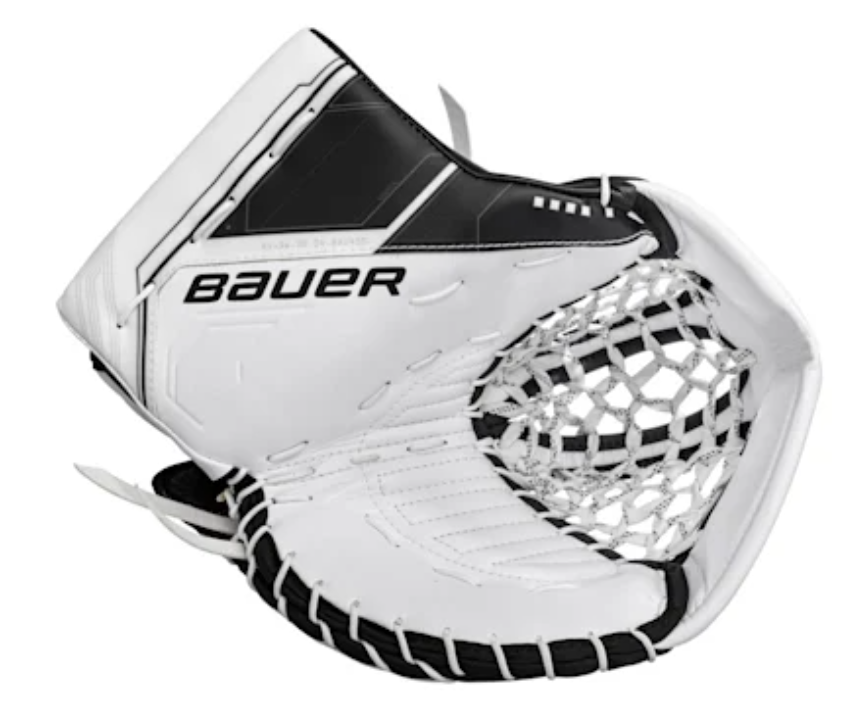 Bauer Supreme Mach goalie glove's notable moments:
•2023 Vezina Trophy winner Linus Ullmark wore the Bauer Supreme Mach glove during the 2022-23 season.
•Elvis Merzlikins debuted a sharp-looking custom graphic Supreme Mach glove with the Columbus Blue Jackets' "Reverse Retro" uniforms.
How does the glove look?
The Supreme Mach goalie glove from Bauer has a sharp look, especially in the black-and-white scheme. A majority of the glove is white, which allows "Bauer" text on the open side near the palm to stand out in black. There is additional black shading at the top of the open side and again at the bottom of the glove near the fingertips. Stitching at the rounded bottom is white, which pops next to the black. "Bauer" also appears at the top backside of the glove near the wrist and is accompanied by Bauer's new logo. "Mach" is found on the backhand side of the glove near the ring and pinky fingers — which is becoming a typical location for companies to feature the product's name.
Why is the Bauer Supreme Mach goalie glove unique?
Many elite features are part of Bauer's Supreme Mach goalie glove. Foremost is the palm's special "Rebound Control Foam" — designed to better absorb pucks and minimize potential sting from shots with extra mustard. An improved cuff provides reinforced protection in the wrist area. Goalies' should have no fear when it comes to movement. The new wrist strap can be adjusted for better control and allows great range of motion. Goaltenders searching for an above-average combination of performance and protection should consider the new Supreme Mach goalie glove.
Players Using This Goalie Glove
(11)
Show All