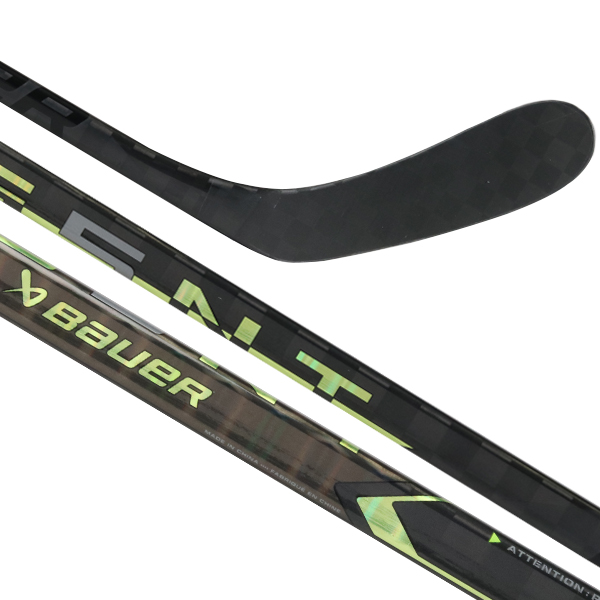 GearGeek.com's first sighting: Trevor Zegras during a photoshoot at the NHL Media Tour in September 2022.
Bauer AG5NT's notable moments:
•In early November 2022, Evander Kane switched to an AG5NT despite registering a hat trick with a different stick in a previous game.
•In November 2022, the Vancouver Canucks had four AG5NT users on their roster.
•Trevor Zegras scored the second-best goal of the 2022-23 regular season (as selected by the NHL) with an AG5NT.
How does the graphic look?
A unique color scheme in the Bauer stick family, the AG5NT consists mostly of glossy black with a light green-and-gold combo to complete the look. In addition to the new color scheme, Bauer is also experimenting with new design tactics. Traditionally, we've seen the word "Bauer" in white near the middle or slightly toward the blade of the shaft. With AG5NT, "Bauer" is now a different shade of black and visible only on the forehand side, giving way to "AG5NT" at the midway point — which is written in the aforementioned light green and gold type. "AG5NT" also can be seen on the backhand side of the shaft at the hosel, designed with the signature X Taper. It is also visible near the knob of the stick, on the top side of the shaft. Two smaller "Bauer" descriptions are on upper parts of the stick, both accompanied by Bauer's new logo. Despite this being a new, unique look, some might say it brings back memories of Easton's Stealth RS, which was extremely popular for its simple but sharp black-and-gold look. This overall design by Bauer is sure to stand out among competitors and generate curiosity from hockey players all over.
Why is the Bauer AG5NT unique?
The first of its kind, AG5NT is Bauer's lightest hockey stick ever made. The secret is in the all-new BORON fiber technology, which decreases weight (335 grams) while also providing a superior feel to maximize results. Important to note that BORON technology is currently exclusive to Bauer, meaning the AG5NT is truly in a league of its own. The build is complemented by an XE Taper at the kick point of the stick, which contributes to a quick release.
Bauer offers customized AG5NT sticks through MyBAUER. The customization includes personalizing with your name and jersey number, as well as choosing stick color. Remarkably, delivery is expected within 5-10 days of purchase. Bauer also has a Pro Custom option, which allows you to build the entire stick — including kick point, taper, shaft geometry, blade core and more. Pro Custom sticks take 40-50 days for delivery. To browse all customized options, click the button above and select "custom" at the top of Bauer's page.
Players Using This Stick
(10)