Most Popular Hockey Gear Of 2022-23
By Matt Stathopoulos
09/12/2023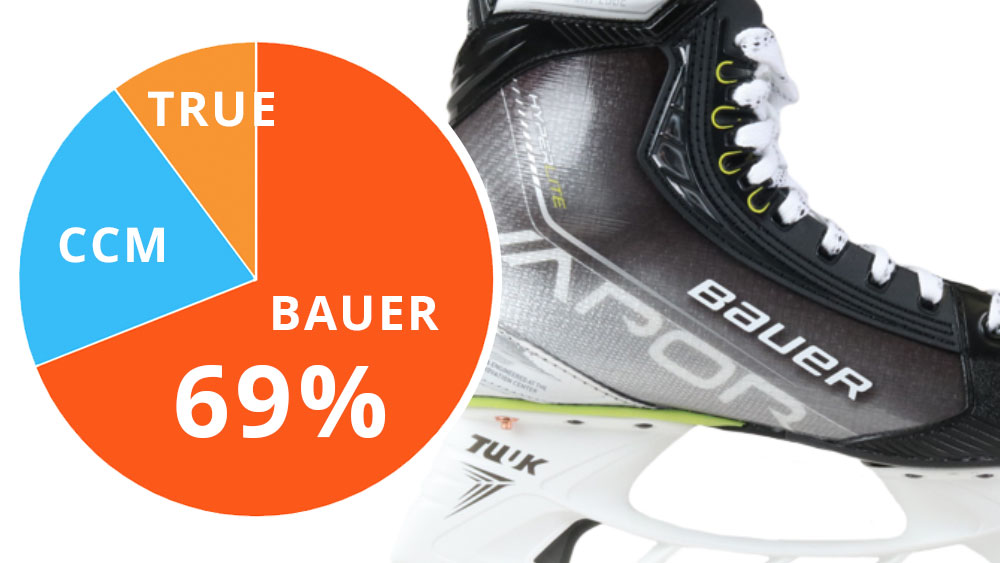 If you've ever wanted to know which equipment brands/models NHL players use most, this is the list for you.


By tracking what each player uses, we've compiled a list, by category, of the most popular NHL hockey equipment.
Skaters
Bauer is the most-used stick brand in the NHL, at nearly 39%, and at the top of that list is the Vapor HyperLite.


High-profile players such as
Artemi Panarin
, Tyler Seguin, Nikita Kucherov, Andrei Svechnikov, and Aaron Ekblad use the Bauer Vapor HyperLite, a lightweight model that suits a lightning-quick release.
Skates: Bauer Vapor HyperLite — 32.75%


Bauer also tops the list of most popular skates, by a wide margin — 69% of NHL players wear Bauers.


Vapor HyperLite leads the way (269 players). Arguably, it's hard to find players who don't wear Bauer skates.


Gloves: Bauer Vapor 2X Pro — 10.68%


Bauer owns the gloves game in the NHL, at a 38% clip. Its top model is the Vapor 2X Pro, which offers a tapered fit with increased mobility for quick hands and better stickhandling. It is lighter and offers more protection than other models.


Helmet: CCM Super Tacks X — 20.35%


While Bauer dominates the skates, stick and gloves game in the NHL, CCM makes its first appearance on our list with the most popular helmet — Super Tacks X.


Users of this model include Auston Matthews, Matthew Tkachuk, Miro Heiskanen, and Clayton Keller.


Pants: CCM — 46.48%


While we don't have a boatload of information about pants in the NHL, we can tell you that nearly half the league uses CCM.


Visor: Oakley 831 — 29.91%


It shouldn't be terribly surprising to see a sunglasses/goggles manufacturer top the list of visors in the NHL. Oakley owns 51% of the action when it comes to visors, with 831 as its most popular model.


While not every player in the NHL wears a visor, users of the Oakley 831 include Sidney Crosby, Kirill Kaprizov, Johnny Gaudreau, Brayden Point and Mikko Rantanen.
Goaltenders
Stick: Bauer Vapor HyperLite — 29.03%


Much like NHL skaters, a majority of goalies also tab the Bauer Vapor HyperLite as their favorite stick.


Users of this model include Phillipp Grubauer, Linus Ullmark, Carter Hart and Filip Gustavsson.


Skates: TRUE — 75.27%


With TRUE dominating the NHL market of goalie skates, it makes sense to mention both of its models.


TRUE Stock Two Piece (41.94%) is used by Carey Price, Connor Hellebuyck, Sergei Bobrovsky, Igor Shesterkin, Thatcher Demko, and Juuse Sarros.


Among those wearing TRUE TF9 (33.33%) skates are Darcy Kuemper, Ilya Sorokin, Jake Oettinger and Adin Hill.


Pads might be where goalies are most finicky. So many details go into the perfect pads — the slide, tightness of the skate, knee protection, how the puck rebounds ... goalies want to have pads that are perfect for them.


Users of the True Catalyst PX3 include John Gibson,
Jordan Binnington
, Juuse Saros, Ville Husso and Alexandar Georgiev.
Glove/Blocker: TRUE Catalyst PX3 and Bauer Supreme Mach — 19% each


Ties don't exist in NHL games anymore, but they do on this list. Goalies equally prefer TRUE Catalyst PX3 and Bauer Supreme Mach gloves and blockers.


John Gibson, Jordan Binnington, Ville Husso and Juuse Saros are among those who use TRUE Catalyst PX3.


Goalies on board with the Bauer Supreme Mach glove and blocker include Elvis Merzlikins, Linus Ullmark,
Ilya Sorokin
and Jake Oettinger.
Mask: Bauer 950 — 52.69%


Most NHL goalies wear the Bauer 950, including Andrei Vasilevskiy,
Igor Shesterkin
, John Gibson and Linus Ullmark.
We don't have data on how many goalies in the NHL have Simpsons characters painted on those Bauer 950s, however.


There you have it, the ultimate list of the most popular hockey equipment in the NHL. If you want to emulate what the pros wear, you know what to buy.